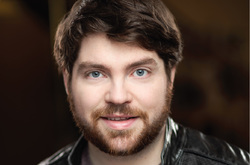 Graham Hamilton
Actor
Vancouver, BC
Biography:
Graham Hamilton is an actor and voice actor, known for Hello Hero: Epic Battle (2018), Rock Dog 3 Battle the Beat (2022) and Dragalia Lost (2018).

He is local to Vancouver, having first been identified by the Coast Guard emerging from the waters off the coast of Vancouver sometime in 1989.

For the following two decades he mostly played video games and embarrassed himself trying to impress girls with his knowledge of Disney trivia. Eventually, seemingly out of nowhere, he landed two rolls in the game Dragalia Lost and was finally able to officially identify himself as a struggling voice actor (as opposed to merely a struggling actor).

His most extravagant success so far has been replacing Luke Wilson as the voice of Bodi in the Rock Dog series of films, and being cast in both an anime and j-drama that haven't been announced yet so he can't talk about them (which is very annoying, he claims).

When he isn't voice acting he spends his days making small indie games that nobody likes and studying Disney trivia.
Convention Guest Appearances